Tractor Clutch Alignment Tools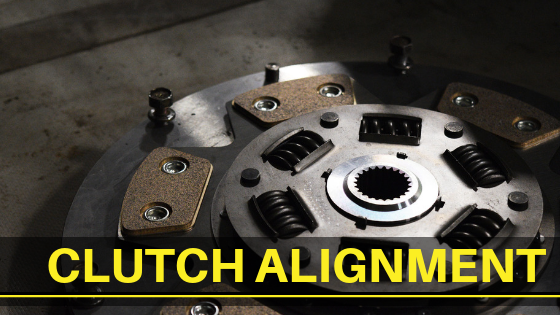 Get the right tool for the job, and make clutch alignment easier.
Installing a new clutch is a tough job. If the clutch disc slips out of alignment part the way through it wont engage with the input shaft and you may have to start again. Clutch alignment tools are required to properly align the clutch plate into the pilot bushing or bearing. To ensure the input shaft from transmission engages with the disc the clutch should be aligned with the flywheel. Using the correct alignment tool with splines that fit snugly and a snout that slots into the flywheel will align the disc centrally avoiding issues at a later date.
How to Use a Clutch Alignment Tool:
Insert the tool into the

clutch disc allowing the tool to

stick all the way through the spines .
Place the clutch on the flywheel, and engage the alignment tool into the pilot bushing or bearing
Push the clutch tight to the flywheel.
Install the pressure plate to the flywheel
Tighten the bolts - torque to spec.
The clutch alignment tool should remain in place until you are ready to install the transmission at which point it can be removed.
Get the correct clutch alignment tool for your tractor. Each of our tools are suitable for a variety of models.


Disclaimer
Anglo Agriparts nor any such reviewers or contributors of content provides any warranty or guarantee as to the accuracy of any information on this website and cannot accept liability for any errors or omissions. The information in this article are for general information purposes only. It does not constitute legal, technical and/or commercial advice and should not be relied upon as such. Specific advice should always be sought separately. Despite the authors best efforts the information provided in this article may not be accurate, up to date or applicable to the circumstances of any particular case. Anglo Agriparts nor the author of this article make no representations or warranties of any kind regarding the completeness or accuracy of the information contained herein and accepts no liability for loss or damage whatsoever and howsoever arising from reliance on it, regardless of whether such information originates from Anglo Argiparts, or our contributors. Anglo Agriparts has no control over the content on any other website accessed through this website and accepts no liability for any loss or damage whatsoever and howsoever arising from reliance upon the content of such websites. Neither Anglo Agriparts nor any reviewer or contributor of content on the website shall be liable to any person for any loss or damage which may arise from the use of the information contained in this article or on this website. These exclusions of liability will not apply to damages arising from death or personal injury caused by the negligence of Anglo Agriparts or any of its employees or agents or of a reviewer or contributor of content.
Related Products
Tags clucth