Power Steering Kits For Tractors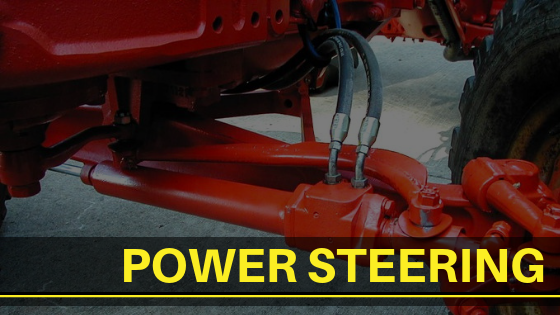 What is power steering?
Power steering helps drivers steer by augmenting steering effort of the steering wheel. This allows increased mobility and ease of turning your tractor.
When was power steering introduced?

Power steering was initially introduced in luxury cars by Chrysler in 1951. The benefits of power steering are now widely recognised and have been applied to all modern vehicles. Historically you required a great deal of strength to turn the wheel when driving at low speeds in tractors. Power steering conversion kits are now used on classic tractors making the driving experience considerably more enjoyable.
The Importance of Power Steering Fluid

Power steering fluid is a type of hydraulic fluid designed specifically for use in power steering systems. The power steering pump pushes the power steering fluid through the system allowing the hydraulic piston to move, this makes it easier to turn the steering wheel.
The main purpose of power steering fluid is to act as the pass through which power is transferred from the steering wheel to the steering mechanism of the tractor. Potential causes of your power steering failing include low levels of power steering fluid and a leak in the power steering rack or damage to the power steering belt. It's important to flush the power steering fluid regularly to clear out dirt and debris to ensure the pump does not wear out prematurely. The fluids acts as a lubricant, protecting all moving parts. Without power steering fluid damage can be caused to the pump and your power steering system.
Signs of Failing Power Steering:

· Whining noise when turning wheel (indicating low power steering fluid)
· Low level of power steering fluid (indicating a leak)
· Stiff Steering
· Leaking brown/red fluid under tractor (indicating a crack in the pump)
Shop for Power Steering Kits for Ford, Massey Ferguson, Case, John Deere and David Brown Tractors.

Related Products
Tags powersteering, power, kits, product