Air Conditioning Compressors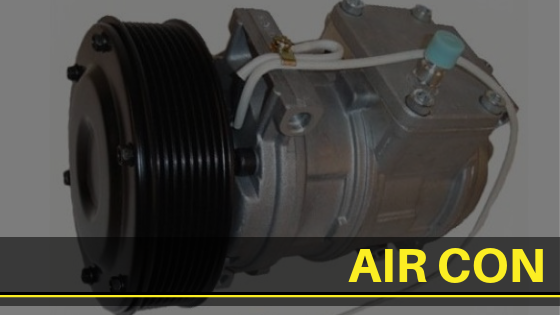 What is an Air Conditioning Compressor?
The air conditioner compressor is the 'linchpin' for every air conditioner. The compressor operates from an electric motor or directly from the engine and is the the component placed under the greatest strain.

The air conditioning compressor is driven by the vehicle engine via a V-ribbed belt or ribbed V-belt. It compresses and transports the refrigerant in the system. There are different types of compressor design. The refrigerant is sucked in gaseous form under low pressure and low temperature from the evaporator; it is then compressed and forwarded to the condenser in gaseous form under high temperature and high pressure.
Troubleshooting an Air Conditioning Compressor.
Your compressor may be damaged if you experience:
Leaks
Noise development
Insufficient or no cooling performance
Fault code in the air-conditioning control unit or engine/body control unit
Possible causes of Compressor failure:
Bearing damage caused by a defective clamping device or wear - Check all retaining clamps and fixing points for breaks or cracks and any missing nuts or bolts.
Leaks in the compressor shaft or the housing
Mechanical damage to the compressor housing
Contact (electrical connections)
Electrical control valve
Lack of refrigerant oil
Lack of refrigerant
Solids (e.g. chips)
Humidity (corrosion etc.)
Defective tensioning elements and ancillary units
Excess or contaminated refrigerant causes excessive high pressure, which, in turn, may cause compressor noise

At Anglo Agriparts we stock air conditioning compressors for Case International Harvester, Ford New Holland, Massey Ferguson and John Deere.

Related Products
Tags air, con, conditioning, conditioner, compressor