Tractor Camshaft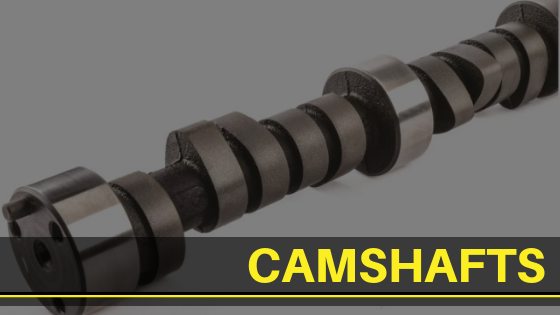 What is a camshaft?
A camshaft is a rod with egg shaped lobes (also known as cams) protruding from the length for each valve. As the lobes rotate, they push the valves open in sync with the crankshaft gear.
The camshaft is critical to the basic function of an engine.
Where do camshafts originate from?
Early recorded mentions of a camshaft were in Turkey in 1206 – camshafts were used in water powered clocks and water raising machines. Among the first automobiles to utilise the camshaft were the Maudslay and the Marr Auto Car in the early 1900's.
What are camshafts used for?
The camshaft is a mechanical component in combustion engines operating the poppet valves. The valves control the flow of air and fuel and exhaust gases opening and closing in conjunction with the crankshaft which is connected either via gear-drives, timing chain or belt assuring mechanical synchronicity. Gear-drives are less prone to breakage than belt drives, which are often found in overhead cam engines. The camshaft is vital in controlling the stroke rate of the opening and closing of the inlet and exhaust valves at the precise time with the motion of the piston and in the precise order required.
The camshaft has four distinct strokes: intake, compression, power, and exhaust.
In a two-stroke engine that uses a camshaft, each valve is opened once for each rotation of the crankshaft; in these engines, the camshaft rotates at the same speed as the crankshaft. In a four-stroke engine, the valves are opened only half as often; thus, two full rotations of the crankshaft occur for each rotation of the camshaft.
What are camshafts made of?
In automobile and tractor engines, the camshafts are often made from chilled cast iron - comparable to the alloyed steels used in the manufacture of bearings. The wear resistance of chilled cast iron is considerably higher of that of ductile cast iron.
Common Camshaft Problems
Because the camshaft is a solid steel component, it isn't prone to wear and breakage in the same way as other parts of the engine. However you may still encounter the following issues:
Worn down cam lobes won't allow the valves to fully open leading to poor engine performance and cylinder misfiring. This can also affect the fuel pressure leading to higher emissions and random misfiring
A worn lifter won't lift the valve as much as intended, if at all. This problem can often be identified by a clattering or tapping sound in the valve cover.
Due to a manufacturing defect or be caused by the camshaft seizing. In pushrod engines, a broken camshaft could significantly damage connecting rods, cylinder block, pistons, or the crankshaft. In interference engines, a broken camshaft could damage the cylinder head, valves, or pistons.
These issues or often caused by a lack of proper engine maintenance. To help avoid camshaft issues regularly change your engine oil and avoid your engine overheating.

Sources: ahfmotorsports.com, tractors.fandom.com, auto.howstuffworks.com, liveabout.com
Related Articles
Related Products
Tags camshaft, engine, tractor, cam, lobe, crankshaft, piston, belt, drive, gear