Fuel Components & Air Intake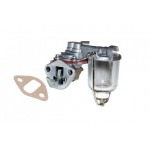 Fuel components for vintage and modern tractors. John Deere, Massey Ferguson, Case International Harvester, Ford New Holland, Fordson, Ferguson, David Brown and Fiat tractors.
Air Filter Hoses
Air Precleaners
Fuel Sender Units
Oil Filter Head & Assembly
Fuel Pipes, Injector Nozzles
Stop Cables, Throttle Cables
---
There are no products to list in this category.