Fordson Dexta Tractor Parts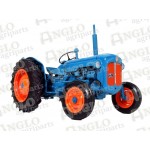 Fordson Dexta parts UK & Eire. Quality replacement aftermarket parts & spares for your Fordson Dexta spares and accessories. The Fordson Dexta was built at Dagenham, England from 1957-1961. The Fordson Dexta was designed as a smaller companion for the Fordson E1A Major to suit smaller farms. We stock a wide variety of high-quality classic Fordson Dexta parts online.

Shop online by searching by part number (OEM ref. determined by the serial number stamped on the flange between the engine & clutch housing on the left side of the tractor) Our Fordson Dexta parts list includes: piston rings, engine kits, radiators, hydraulic pumps, starter motors, gaskets, bearings, fuel pumps, water pumps, brakes, clutch, electrics, engine components, axle & steering, fuel components, linkage, transmission, steering, tin work and body parts.
---