Gaskets
Anglo Agriparts offer a full range of gaskets for Diesel engines, for John Deere, Massey Ferguson, Ford New Holland, Case International Harvester, David Brown, Ferguson and Fordson tractors. Gaskets can be classified in many different ways, for example: by material, by function, or by application. A gasket is basically a part cut from a (usually) flexible material, which sits in between two other surfaces.One of the main functions of a gasket is to seal against the leak or ingress of liquids
Our normal range includes:
Full Overhaul Gasket Set
Which will contain all the gaskets and seals necessary to completely overhaul the engine both at top and bottom end.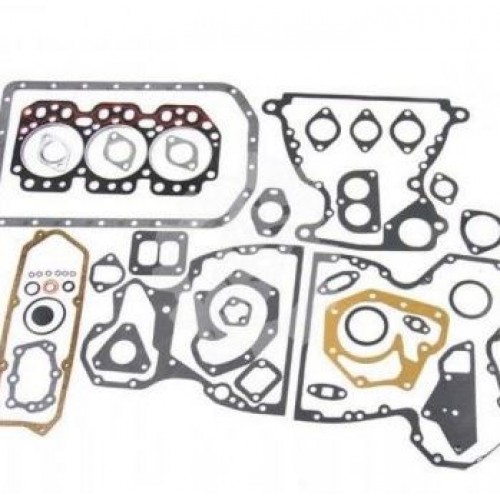 Cylinder Head Gasket Set
Which will normally contain Cylinder Head Gasket together with the Rocker Cover Gasket, Manifold gaskets, Valve stem seals and other ancilliary gaskets used at the top end of the engine notably water pump mounting gasket and thermostat gaskets.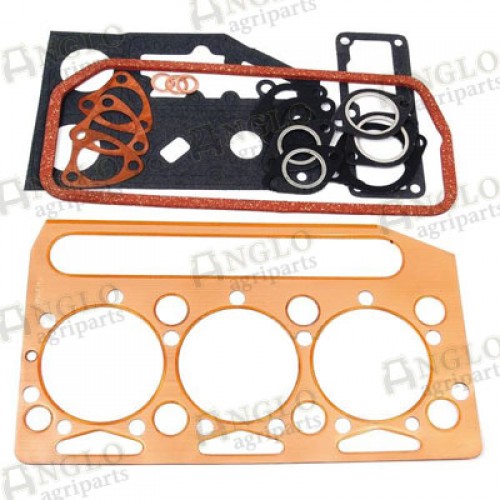 Bottom Gasket Set
Which will normally contain the Sump Pan Gasket and other anciliary gaskets associated with the bottom engine rebuild, traditionally this will include the Front and Rear Crankshaft seals.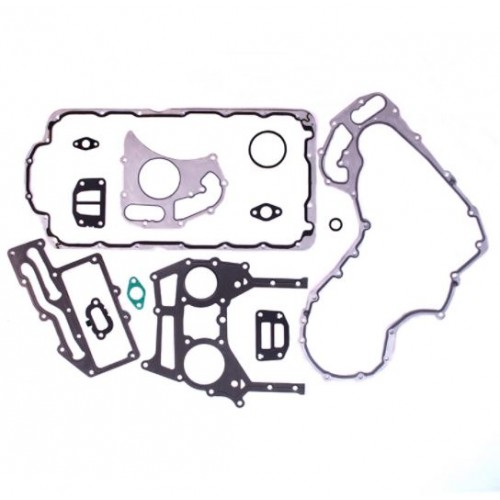 Depending on engine specification, Anglo Agriparts will also supply individual gaskets such as Cylinder Head Gasket, Rocker Cover Gasket, Manifold Gaskets, Sump Gasket, Crank Seals and Valve stem seals.

Cylinder Head Gasket - Technical Aspects
Cylinder Head Gaskets form the most critical seal on an engine, the head gasket must seal combustion pressures up to 2700 psi in turbocharged diesel engines. In addition, the Cylinder Head Gasket must withstand combustion temperatures that are in excess of 2000 deg F (1100 deg C).
The head gasket must also seal coolant and hot thin oil flowing under pressure between the cylinder head and block. Modern coolant formulas, oil detergents and additives tend to cling to water/oil ways surfaces and soak into gaskets, so gasket materials must be chosen carefully to resist these fluids and maintain an effective seal. Many head gasket coolant holes also meter the coolant flow to ensure proper circulation and cooling.
One factor is engine vibration and the head shifting and flexing as a result of the combustion pressures. Another factor is that Head gaskets must resist crushing from cylinder bolt clamping forces of 200,000 lbs (90,800 kg) that may be unevenly distributed across the head. Cylinder head gasket designs have changed over time, and in recent years with the need to meet new Emissions requirements they are changing ever faster. New engine designs and updates of older engines require advanced materials and constructions. There are two things you should remember, first of all you need to ensure that the gasket is manufactured by a high quality producer, one you can trust to assure that the engine will be sealed satisfactorily for a long time. However there is no one best gasket design since no single type is best for all applications. Exhaustive testing is performed to ensure the correct construction and design is used. No-retorque head gaskets are now common, however many gaskets for import vehicles as well as older designs require the cylinder head to be retorqued. Retorque-type gaskets set after initial engine operation and relax to the point where retorquing is needed to restore proper clamping force.
Modern Head Gaskets
Modern No-retorque Head Gasket
These gaskets use a variety of materials and basically consists of facings, coatings and a core. Cores can be either solid or clinched steel. Even if the core is a clinched steel type, the facing attached to it is dense enough to maintain torque and strong enough to resist blowout. Two facing materials used are expanded graphite and reinforced rubber fibre, these materials are dense enough not to relax too much, so retorquing is not required, buy they will compress enough to conform to minor surface irregularities of the cylinder head and block mating surfaces.
Coatings are added as needed to further help sealing. They are typically Teflon or Silicon and selection is based on the operating temperature of the engine. These anti-friction coatings also act as anti-sticking agents so the gaskets will come off cleanly protecting the engine surfaces when servicing is required.
Sealing Beads also are used to augment clamping loads on critical sealing openings such as coolant and oil ports. Wire Ring Combustion Seals may be encased in stainless steel armors for increased strength in heavy duty applications, the rings can be manufactured out of copper of pre-flattened steel.


Licence Terms

You are free to: Share, copy & redistribute the material in original format for any purpose as long as you follow the license terms below:

Attribution – you must give appropriate credit and provide a link to the original article in a reasonable and visible manner
You may not in any way suggest that the licensor endorses you or your use.
No Derivatives – The material must be distributed in full, including disclaimer, you may not distribute or share modified material.
No additional restrictions – You may not apply legal terms that legally restrict others from doing anything the licence permits.
No warranties are given. The license may not give you all of the permissions necessary for you intended use. For example other rights such as publicity, privacy, or moral rights may limit how you use the material.
Disclaimer

Anglo Agriparts nor any such reviewers or contributors of content provides any warranty or guarantee as to the accuracy of any information on this website and cannot accept liability for any errors or omissions. The information in this article are for general information purposes only. It does not constitute legal, technical and/or commercial advice and should not be relied upon as such. Specific advice should always be sought separately. Despite the authors best efforts the information provided in this article may not be accurate, up to date or applicable to the circumstances of any particular case. Anglo Agriparts nor the author of this article make no representations or warranties of any kind regarding the completeness or accuracy of the information contained herein and accepts no liability for loss or damage whatsoever and howsoever arising from reliance on it, regardless of whether such information origintates from Anglo Argiparts, or our contributors. Anglo Agriparts has no control over the content on any other website accessed through this website and accepts no liability for any loss or damage whatsoever and howsoever arising from reliance upon the content of such websites. Neither Anglo Agriparts nor any reviewer or contributor of content on the website shall be liable to any person for any loss or damage which may arise from the use of the information contained in this article or on this website. These exclusions of liability will not apply to damages arising from death or personal injury caused by the negligence of Anglo Agriparts or any of its employees or agents or of a reviewer or contributor of content.