Tractor Parts List and Look Up
Spares For Massey Ferguson, Case International, Ford New Holland, Fiat, Ford, Fordson, Ferguson, David Brown, Case International Harvester and John Deere.
Click HERE to download our free parts list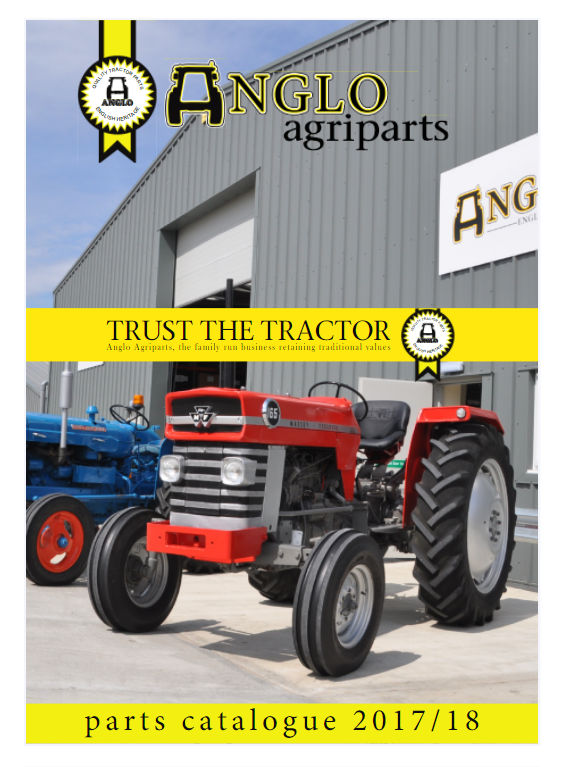 Or Search By Make/Model:
Shop for parts for top tractor makes, lines and models. We stock the following agricultural tractor parts and spares:
Tractor tires, tractor seat, tractor attachments, Engines and filters, Axles and Transmission, PTO & Linkage, Electrics, Hydraulics, Body Parts, Piston Ring Set. Switch Ignition & Heating, Conrod Bearing, Gaskets, Injector Nozzle, Valve Stem, guide, inlet, Heater Plug, Fuel Pump, Clutch Release Bearing, Water temperature switch, Water Pump, Oil Pressure Gauge, Brake Pin kit, Steering wheel, Brake Pedal Bush, Cylinder Liner, Engine Overhaul Kit, Starter Motor, diesel parts.
Anglo Agriparts UK supply quality spare tractor parts to the UK, Ireland and worldwide. We list over 6000 replacement parts for modern and vintage tractors including Ferguson, Massey Ferguson, Ford New Holland, Case IH International, Fordson, John Deere, Fiat, David Brown, and Leyland tractors plus Perkins engines spares and kits.