Massey Ferguson 245 Tractor Parts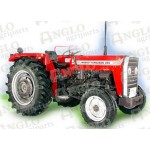 Massey Ferguson 245 tractor parts list UK & Ireland. Buy replacement parts, accessories & spares for your Massey Ferguson 245 tractor part of the 200 series. The Massey 245 was produced from 1976-1983. Engine: Perkins 2.5L 3-cyl diesel engine, 45 hp

Buy Massey 245 parts online – use the OEM reference (determined by the serial number below the instrument panel) to find your part or search our categories for our full Massey parts list. We stock high quality agri parts at competitive prices. Shop for: engine, brake, clutch, transmission, gasket, grill, tire, pump, radiator, headlight, switch, exhaust, piston, liner, axle, pto shaft, power steering, filter, hydraulics, paint, cab glass, crank shaft, tin work, bearings & more. Next day delivery available for UK mainland orders. Thousands of parts in stock.
---