Massey Ferguson 273 Tractor Parts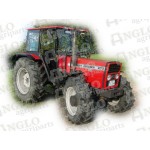 Massey Ferguson 273 tractor parts list UK & Ireland. Buy replacement parts, accessories & spares for your Massey Ferguson 273 tractor. The Massey 273 was produced from 1983-1987. Engine: Perkins 3.9L 4-cylinder diesel engine, 63 horse power.

Buy Massey 273 parts online to service or restore your tractor – Next day delivery available. Use the OEM reference (determined by the serial number) to find your part or search our full Massey stock parts list. Anglo Agriparts stock quality agri parts at competitive prices for the Massey Ferguson 273 model. Shop for: cylinder head, wheel bearing, brake, bush, piston ring, valve, conrod, exhaust, gasket, oil filter, clutch, fuel pump, ignition key, radiator, switch, exhaust, liner, axle, pto, ignition, liner, grill, & more.
---