Lewis is a young, enthusiastic restorer – at the age of 14, without any knowledge but a passion to learn, Lewis purchased a seized, solid, Ferguson TEA 1948 from a local dealer and began his first restoration. With help from his Grandad, uncle and lots of other friends the TEA was bought back to life and a year later came 3rd place in it's first show.
PART 1- JAN 18
In September 2017, I took on the restoration of a Ferguson Te20, converted to a Perkins A3.144 engine in 1957. I bought the tractor from a local dealer where I had bought my previous tractor from, more on that later. Myself and the dealer had become good friends throughout my last restoration, visiting local aricultural shows and even competing together. He knows me too well and dropped the p3 of when he was passing one day, he asked me what I thought and naturally I couldn't let the tractor leave, so that was the start of my second restoration.
The tractor itself was in a bit of a state, but amazingly all there. It had had a good few parts changed to a cheaper alternative, and looked to have had a hard life working away. The tractor ran, but very poorly, and the original p3 engine block had a crack, running from one freeze plug to the next. It also pushed oil out of the dipstick top, that made me think it was a blocked breather.
A day after it arrived, I set to work. I started it up, drove it up and farm lonnin a few times, testing the brakes, clutch and gears. Then it was into the shed for the engine to be dismantled.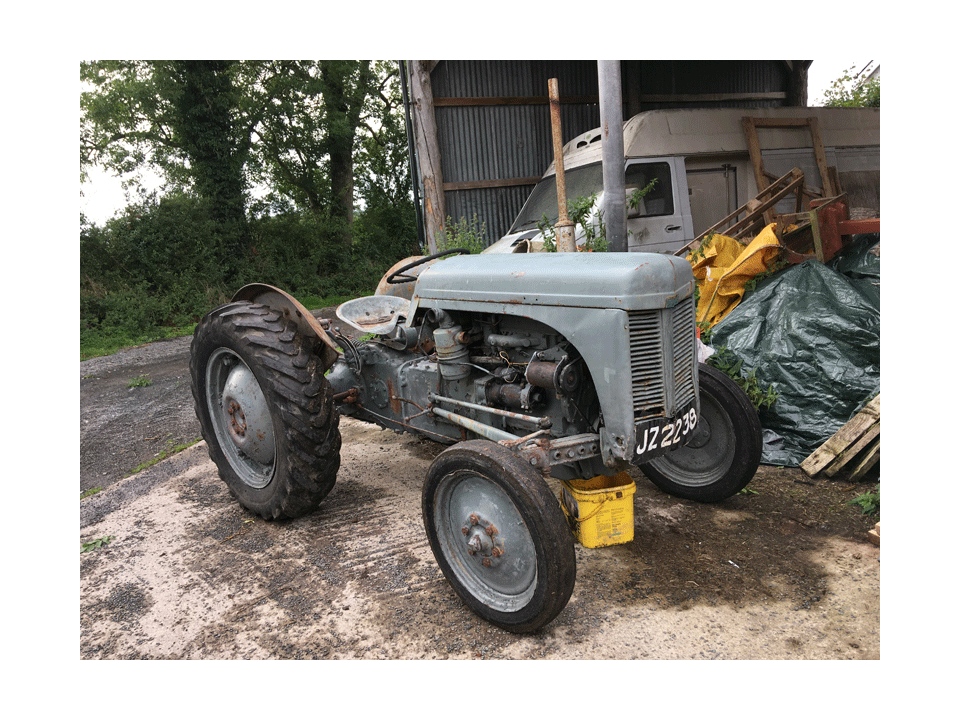 PART 2 - FEB 18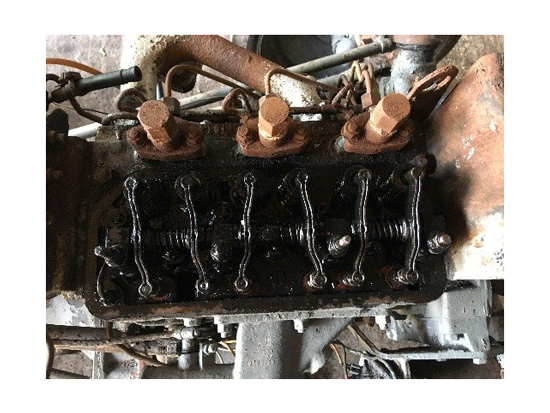 I got the rocker cover off, breather pipe removed, and I blasted them through with a compressor, they seemed to be clear and working as they should, so it can't have been that making the oil push out of the dipstick. This made me wonder what was going on below the head, so I got to work taking it off. I had the head off within an hour of starting the job, and had had a good look at liners and pistons, checking for piston slap and ware on the liners. There wasn't any excessive piston slap, but the liners where badly worn.

I called in my uncle and his friend in, both retired mechanics, they gave me another verdict on the engine, and had brought me some books and a manual for the P3 engine, that have come in very handy! They also said that the liners where in definite need of being replaced, and that I should get the injectors tested and overhauled when they were off, so I took the engine to my local mechanics, to see if he could fix the problem. He said I wasn't worth fixing, due to the bad crack and how it was patched and said to keep an eye out for a MF 35 engine or another p3 block.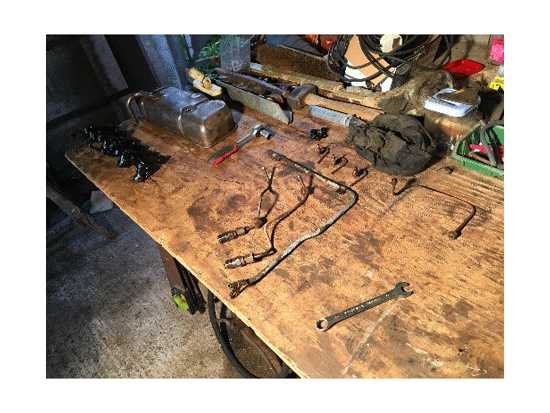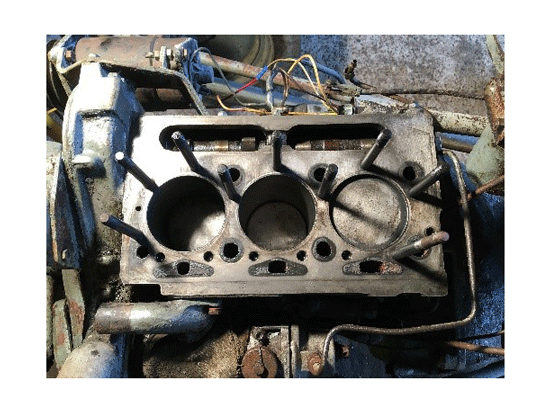 PART 3 - March 2018
Due to hearing the bad news about my P3 block, I started to look out for another p3 block or a 35 engine that I could fit in. I became lucky and bought a Massey 203/mk3 industrial tractor, in sight as it being a parts tractor, which was fitted with a 3cly Perkins engine. I got to work getting the engine ready to be removed from my P3 and let the oil drain from the backend (it looked to had never been changed ever!).

I took the time to take my hydraulic top off and give it a good clean up and replace gaskets and bolts. This was well and truly needed as the shaft had been greased in the past, and old grease was stopping the shaft from moving freely. I also cleaned up the hydraulic pump when I was on, checking the control valve was ok and working correctly. After testing everything out, and fitting it all back on, I decided to start cleaning the back end up, ready for paint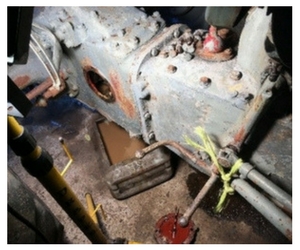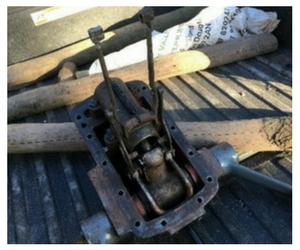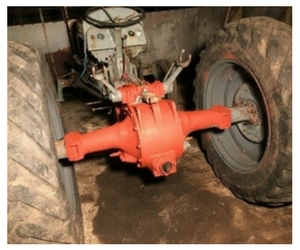 PART 4 - APRIL 18
I got the first and second coat grey paint applied onto the backend this month and am quite happy on how its turned out. I sent my engine from the 203/mk3 to the local fabricator to get the slight crack it has on repaired and have been gathering parts up to be fitted to the engine once fitted to the tractor (all provided by Anglo Agriparts).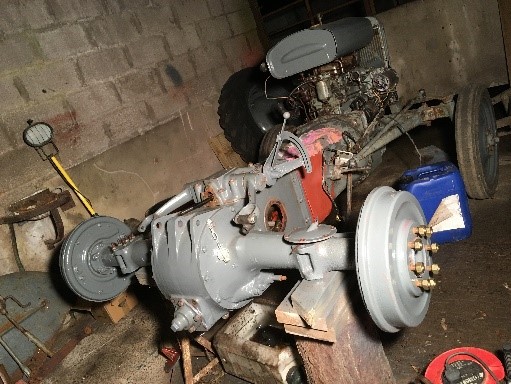 I also got around to sorting out the problem with the gears, it was missing 2 out of the 3 springs that help to secure the selectors in place, an easy fix after having a look in some boxes of bolts from previous restorations. Unfortunately, the steering box had had a hole drilled in at some point, to make the oil from the box drain out I think, making the steering box unusable for my restoration. I took the dashboard panels and battery tray off to be cleaned up and painted while I tried to find another steering box in a good condition. Its just a waiting game now for the engine to arrive back!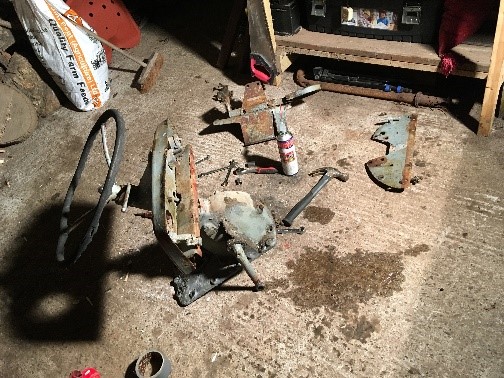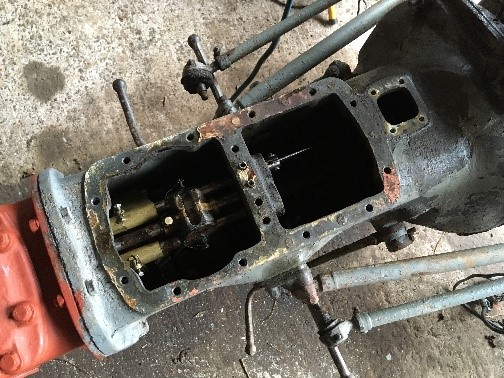 ARTICLE CONTRIBUTED BY LEWIS MACDONALD
© LEWIS MACDONALD & ANGLO AGRIPARTS LTD
Anglo Agriparts stock 1000's of parts for Ferguson tractors, buy parts for your Ferguson TE20:

Buy Ferguson TE20 Parts >>
Ferguson TE20 Serial Numbers >>
The History Of Ferguson >>
Licence Terms
You are free to: Share, copy & redistribute the material in original format for any purpose as long as you follow the license terms below:
Attribution – you must give appropriate credit and provide a link to the original article in a reasonable and visible manner
You may not in any way suggest that the licensor endorses you or your use.
No Derivatives – The material must be distributed in full, including disclaimer, you may not distribute or share modified material.
No additional restrictions – You may not apply legal terms that legally restrict others from doing anything the licence permits.
No warranties are given. The license may not give you all of the permissions necessary for your intended use. For example other rights such as publicity, privacy, or moral rights may limit how you use the material.
Disclaimer
Anglo Agriparts nor any such reviewers or contributors of content provides any warranty or guarantee as to the accuracy of any information on this website and cannot accept liability for any errors or omissions. The information in this article are for general information purposes only. It does not constitute legal, technical and/or commercial advice and should not be relied upon as such. Specific advice should always be sought separately. Despite the authors best efforts the information provided in this article may not be accurate, up to date or applicable to the circumstances of any particular case. Anglo Agriparts nor the author of this article make no representations or warranties of any kind regarding the completeness or accuracy of the information contained herein and accepts no liability for loss or damage whatsoever and howsoever arising from reliance on it, regardless of whether such information originates from Anglo Agriparts, or our contributors. Anglo Agriparts has no control over the content on any other website accessed through this website and accepts no liability for any loss or damage whatsoever and howsoever arising from reliance upon the content of such websites. Neither Anglo Agriparts nor any reviewer or contributor of content on the website shall be liable to any person for any loss or damage which may arise from the use of the information contained in this article or on this website. These exclusions of liability will not apply to damages arising from death or personal injury caused by the negligence of Anglo Agriparts or any of its employees or agents or of a reviewer or contributor of content.