Massey Ferguson 140 Tractor Parts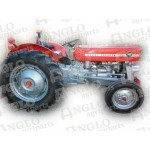 Massey Ferguson 140 parts UK & Ireland. Quality replacement parts for your Massey 140. In this section you will find aftermarket MF 140 spares and accessories of our full Massey parts catalogue. The Massey Ferguson 140 tractor has a Perkins 2.5L 3 cylinder diesel engine with 43 hp and was produced in France. Anglo Agriparts stock a wide variety of high-quality classic Massey Ferguson 140 parts online.

Shop online for spares by searching with a part number (OEM ref. determined by the serial number) or selecting a category from our Massey 140 parts list including: piston ring, engine component, radiator, hydraulic pump, starter motor, gasket, bearing, fuel pump, water pump, brake, clutch, linkage, PTO, axle, paint, seats, steering, tires, electric & transmission parts. UK next day delivery.
---