Massey Ferguson 2210 Tractor Parts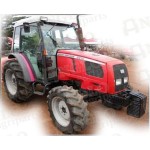 Massey Ferguson 2210 tractor parts list UK & Ireland. Buy replacement parts, accessories & spares for your Massey Ferguson 2210 tractor. The Massey 2210 was a utility tractor produced from 1999-2000. Engine: Perkins 2.7L 3-cylinder diesel engine, 53 hp

Buy Massey 2210 parts online – use the OEM reference to find your part or search our categories for our full Massey parts list. We stock high quality agri parts at competitive prices. Shop for: engine, brake, clutch, transmission, gasket, grill, tire, pump, radiator, headlight, switch, exhaust, piston, liner, axle, pto shaft, power steering, filter, hydraulics, paint, cab glass, crank shaft, tin work, bearings & more. Next day delivery available for UK mainland orders. Thousands of parts in stock. Recommended supplier for Europe, Ireland & UK.
---